This week we are travelling to the capital of Spain for a wonderful exhibition that is taking place at the
Museo de Historia
of the city. We are not talking about the interesting exhibition about the public school and its experiences from 1898 to 1938, going through plena
civil war
-although we also recommend that you see it-, but we are talking about a compilation by the cartoonist Antonio Mingote (1919-2012).
But… Who is this Mingote? If you are a reader of the newspaper ABC, the name probably sounds familiar to you, since the illustrator spent much of his professional career drawing the vignettes that accompanied the newspaper, with an ironic and critical tone with the contemporary society of the moment. This work appeared in 1953 and would accompany him until the date of his death.
However, Mingote did not dedicate himself exclusively to illustration, he developed part of his work in other fields, such as literature with novels such as "Las palmeras de cartón", "Los revólveres hablan de sus cosas", "Adelita en su desván". Historical and humorous novels such as "Historia de la gente", "Historia de Madrid", "Historia del traje", "Hombre solo, hombre tranquilo" and 5 years of Madrid. But this all-terrainer from the creative world also came to work in the world of theatre writing the play "El oso y el madrileño", or thanks to his work in different sets and scenographies of other functions.
Madrid with "M", but why Mingote?
Surely more than one countryman would pull his hair to know the origin of Antonio Mingote. A Catalan born in the city of Sitges, who moved to Madrid after not finishing his studies at the University of Philosophy and Letters of Zaragoza. Then he would fall in love with the city. This gave him the possibility of moving around with contemporary personalities such as Rafael Azcona or Carlos Clarimón, and the cultural and social offer of the city served as a breeding ground for his most ironic thoughts, which he would capture in many of his works.
That's why perhaps Madrid is written with "M" by Mingote, because it managed to represent in an extremely critical and ironic way the point of view of the society of Madrid at the time -and also of a large part of Spanish-.
What don't you believe us? Well, here are a few of the author's works for you to judge on your own.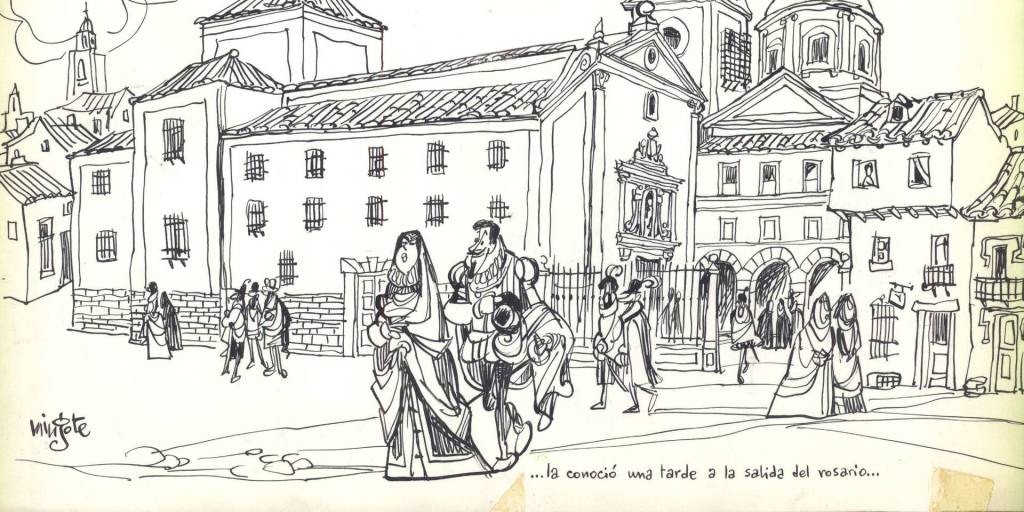 Work from Mingote for Retiro's tube station