Breaking the established limits becomes in some cases a tool for creative production. Letting ourselves be carried away by the spirit, feelings, sensations, or experiences, generates in us a state of uncertainty thanks to which we can produce material linked to our being. Tracey Rose (Durban, 1974) is an artist who has managed to develop her work from debauchery, passing untouchable barriers for many other colleagues.
Restraint as a protest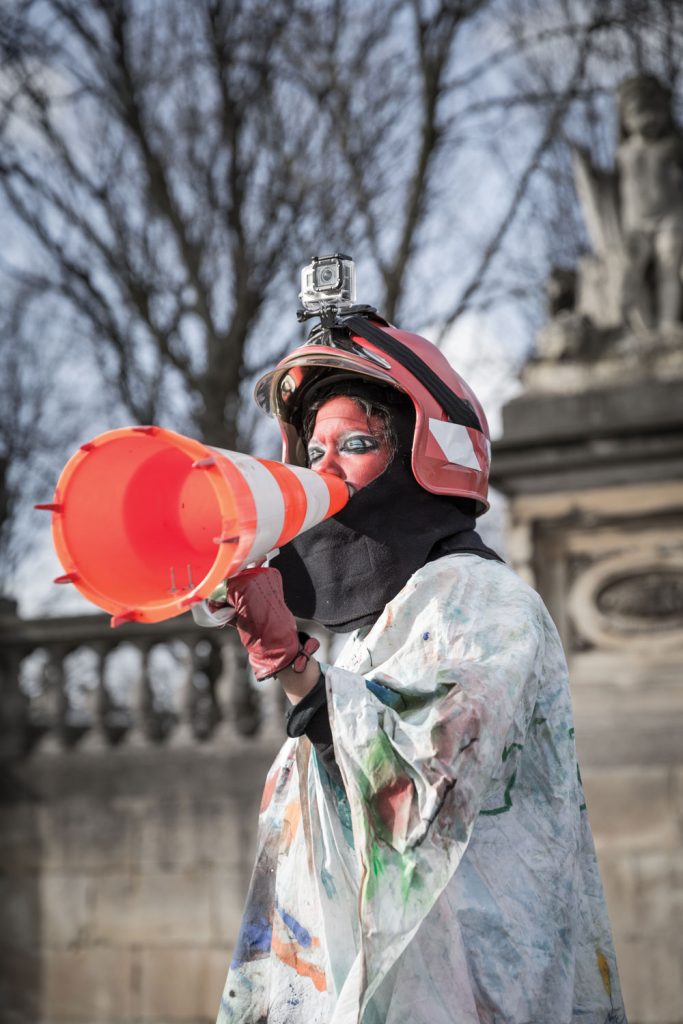 If anything characterizes Tracey Rose's work, it's its vindictive tone. Since its inception she has moved exploring with her art the limits of oppression, experimenting with her hair and body such important issues as discrimination by race, gender or ethnicity. The action is carried out through a process in which the comical and striking are intermingled with the absurd. This ends up triggering a deeper and usually painful response in the recipient. We can say that the artist becomes a catalyst of visceral emotions, breaking any rational barrier, letting herself be carried away by her feelings and reflections. As an example, we find her work "Ongetiteld", where she records herself with security cameras while she strips herself of all her beauty. A dehumanizing and liberating gesture with which she seeks the freedom not to be pigeonholed in any genre.
The nature of her works leads her to generate projects that may not be distinguished from the new creative industries. What could remain as a body-paint work that works by the surprise of the image, becomes a kind of absurd theater in video format as we can find today on YouTube. This way of showing his work makes us participants in a story. We leave behind the active role that one has in front of a painting or a photograph, to move on to a passive role in which the artist offers us complex situations that awaken our astonishment or confusion.
Indifference populates our streets, uncomfortable situations lead us to isolation instead of action. Tracey is able to eliminate this indifference thanks to his work, which we can classify as irrational.
Scenographies of the experience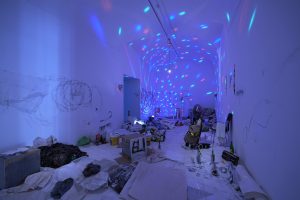 This visceral art in many cases evokes situations he has observed or gone through. Imagination is intermingled with these memories to generate charged scenographies formed by numerous objects marked by negative connotations. We can imagine ourselves walking through the streets of Soweto, in places where inequality or mistrust still exist despite the years that have passed since apartheid. These scenarios help us to imagine the cruelty that the "human" being can contain.
Reconciling with the soul
However, it seems that since she was a mother, Tracey has set aside part of that dark vision of the world. Perhaps because love has sprouted in her life, we see how some of her latest projects focus on the spiritual relationship that human beings have. We abandon the cruel part, to know a more personal reflection about ourselves. This does not separate his new work from the visceral character so characteristic of his work. Among the most notable examples we can highlight the work he did for the Reina Sofia Museum in Madrid.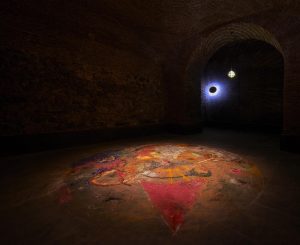 Although his temporary exhibition between 2014-2015 showed part of this work where he talks about human cruelty, he also made two installations in which his characteristic way of expressing himself generated spaces full of peace. The soul or mystical reflection appears before us, just as the absurd led us to break our indifference. We read a glimpse of hope and humanity that leads us to a moral balance.
After passing very briefly through the work of Tracey Rose, we can try to understand the complexity of form. A caricatured work, free of the barriers imposed by society, and that takes the public to the bottom of the wound. Without detours, with humour, and sarcasm.
Header image: Tracey Rose in "Exterminate all the Brutes".